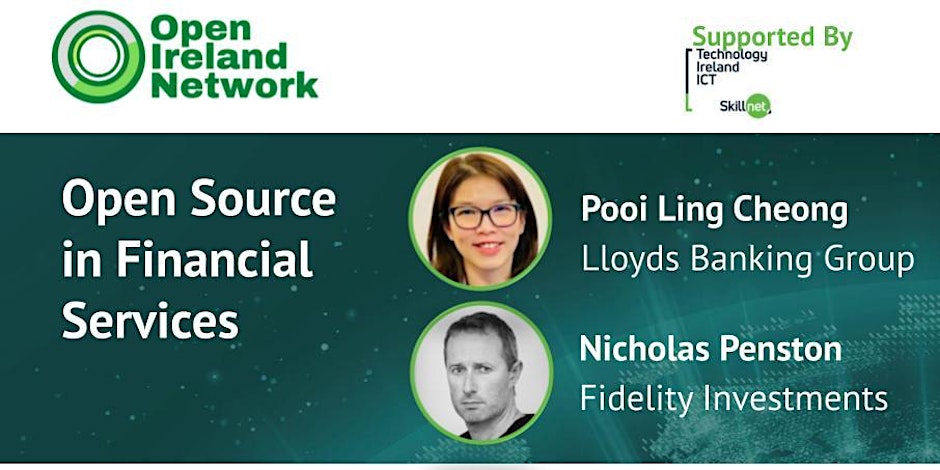 Overview
Open Source in Financial Services
If you ever need proof that open source is now a key part of the mainstream tech ecosystem, you only need to look at how the Finance Industry is strategically leveraging open source. FINOS, or the Fintech Open Source Foundation recently held its Open Source in Finance Forum in New York. In this Open Ireland Network Community Call, we will give an overview of the State of Open Source in Finance research that was presented there. That summary will be followed by a panel session with local and global Financial Services representatives, who will discuss why and how open source is used in their organizations.
Agenda
November 29th, Online meeting – 4:00 pm – 5:00 pm
[05 mins] Intro and Welcome
[10 mins] Highlights from the State of Open Source in Financial Services Report
[35 mins] Panel session:

Pooi Ling Cheong, Open Source Program Office Lead, Lloyds Banking Group
Nicholas Penston, Head of Cloud Engineering, Fidelity Investments
Clare Dillon, Co-founder, Open Ireland Network (Moderator)

[10 mins] Community News & Close
Speaker Bios
Pooi Ling Cheong – Lloyds Banking Group, Open Source Program Office Lead
Pooi is the Open Source Program Office lead at Lloyds Banking Group. She strongly believes that Open Source is the key to unlocking potential to transform the organisation, supporting the Bank's purpose of Helping Britain Proper through creating a collaborative culture, bringing together different communities and talents to deliver solutions that provide the best experience for its customers. She is a contributor to the FINOS OSR body of knowledge and spoke at the previous FINOS meetup.
Nick Penston – Fidelity Investments, VP / Head of Cloud Engineering
Nick Penston has over 22 years software engineering experience and is currently Vice President and Head of Cloud Engineering for Cloud & Platform Engineering (CAPE) at Fidelity Investments. Nick joined Fidelity in January 2014 and has worked across the organization to support the mission of enabling Fidelity to safely and securely adopt cloud at scale. He now leads Cloud Engineering focusing on cloud engineering excellence and developing exceptional cloud engineering talent to support the enablement of Fidelity's next generation digital services.
Clare Dillon – Open Ireland Network, Co-founder
Clare Dillon has spent over 25 years working with developers and developer communities. She is currently a researcher at the University of Galway. She is a co-founder of the Open Ireland Network, a community for those interested in advancing open source at a national level in Ireland. From 2021 – 2023, she served as the inaugural Executive Director of InnerSource Commons, a community of practitioners with the goal of creating and sharing knowledge about InnerSource: the use of open source best practices for software development inside organizations. Clare also works with University Open Source communities globally. Previously, Clare was a member of Microsoft Ireland Leadership Team, heading up their Developer Evangelism and Experience Group. Clare frequently speaks at international conferences and corporate events on topics relating to the future of work, innovation trends and digital ethics.